Maximize Your Marketing Mix with these Two Things
Product, price, place, and promotion. The 4 P's of marketing. The "classic" marketing mix. And then someone added positioning, packaging, and people. An additional 3 P's of marketing to round it all out. But is that all there is to successful marketing? There has to be something more to marketing to differentiate the brands that make it and brands that don't.
While these elements are important in your marketing strategy, 2 more P's could elevate your brand even more – Personality and Purpose. In our everchanging world of tech and automation, consumers are searching for that human touch. [See our previous blog post here on how these two things interact]. Having a personality connected to your purpose-driven brand could be the power duo that even outdoes Jim and Pam!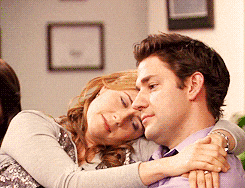 Image via Giphy.com
As brands dive into social media and marketing mediums, they inherently develop personalities. Each "P" in the 7 P's filter into the personality of the brand. Is the brand a know-it-all brainiac? Is the brand fun and outgoing? Or is the brand down-to-earth, save all the puppies, have a plan to achieve world peace type? What you share about your business, in all communications, determines your brand personality – something that should be unified across platforms.
How do you determine what your brand's personality should be? Two places to start are your company values and mission statement. If your company values security and stability, then you probably don't want the personality of Blair Waldorf and Serena Van der Woodsen in Gossip Girl. If your company's mission is to make the world happier and safer, you probably don't want a sassy personality that could give Honey Boo Boo a run for her money [and crown].
Understanding your brand, company values, and what you want to be remembered for as your company matures shapes the way your brand is "raised" and the personality it "grows up" with.
We're also in a time when you can't just be in business to make money. Consumers want to connect with brands that have a deeper purpose. Again, this is a chance for brands to looks back to their values and company mission. Your purpose is driven by your values, and a personality driven from your values makes your brand all that more authentic.
Ultimately, it all comes down to your why. Why are you in business? Why did you start this mission? Why are you passionate about a certain cause? Lead with your purpose when you are marketing to people. When you understand your why and tell people about it, they will begin to understand and relate. They will start to align with your brand and be the most loyal ambassadors. When your purpose aligns with your personality, and your product, price, place, promotion, people, positioning, and packaging are all on the same page, your branding and marketing will be at its strongest. All your P's should definitely be in the same pod.